About Us
Precious Lambs Preschool is owned and operated by St. Paul's Evangelical Lutheran Church, and is directly supervised by St. Paul's Board of Christian Education. Our
church
and
school
are members of a larger church body called the
Wisconsin Evangelical Lutheran Synod
, which has been providing quality Christian education for over 150 years. We are one of the Largest Private / Christian School Systems in the United States (National Center for Educational Statistics) and have: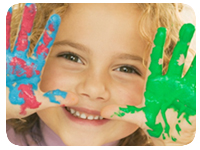 400 Early Childhood Ministries
345 Lutheran Elementary Schools
26 Lutheran High Schools
2 Colleges
1 Theological Seminary
Precious Lambs Preschool is a faith-based, licensing exempt preschool program, and is committed to ongoing self-monitoring that meets or exceeds state licensing regulations.
Precious Lambs Preschool is an accredited preschool through the Association of Christian Schools International, and received its accreditation status in June 2007.

In the Bible God tells us that He "...wants all people to be saved and to come to a knowledge of the truth." (I Tim. 2:4) All children are welcome to enroll in Precious Lambs Preschool without reference to race, religion, national or ethnic origin or gender.