Our Curriculum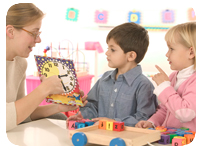 Parents often have questions and concerns about preschool curriculum. Many people tend to equate a school's curriculum with a published set of materials that lead a teacher from one lesson to the next. These may include pre-made materials like worksheets, or cut and paste activities. Many preschools use such curriculums, but research disagrees that these create the best results in children. We have chosen to utilize research-based curricula that is flexible to meet the unique needs of the children in each classroom, and which use open-ended activities in which the children are active, participatory learners.

Our curriculum is based on our Christian faith, our understanding of child development, current research in early childhood education, and our knowledge of each individual child, his interests, needs, abilities, and background. As such, we offer a curriculum at Precious Lambs Preschool that is designed to meet the spiritual, physical, cognitive and social-emotional developmental needs of our children.
"Curriculum" in our early childhood setting is everything that we do throughout the day. In addition to addressing traditional academic subjects, it promotes independence, curiosity, decision making, cooperation, persistence, creativity and problem solving in young children. Our day consists of active and quiet times; individual, small, and large group experiences; and indoor and outdoor play.
The rich classroom environment allows children to be comfortable and practice skills they have learned, and encourages them to try new experiences. Children will develop the skills, attitudes and concepts that will enable them to make sense of the world, be successful and therefore develop a true feeling of self-worth. Following a daily routine helps children feel secure by giving them a sense of control as they come to know what to expect.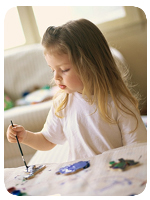 The teachers act as facilitators in this child-centered classroom as they guide and supervise play to foster learning. Children are encouraged to make choices, engage in active learning, and build relationships with peers and teachers. The learning centers are filled with concrete, process oriented experiences for children. Through supervised play children become better thinkers and problem solvers and develop creativity.
Other small and large group times involve children in teacher-initiated experiences. These are scheduled throughout the day and may include listening to stories, playing a game, cooking, singing, learning a finger play, experiencing music movement, or planning and sharing.
We believe this curriculum will create capable learners who are able to think for themselves, solve problems, and live as children of God. Children will be challenged to use language and to construct meaning from print. They will stretch their ability to think logically, solve problems, see relationships, and to use their senses. It is the integration of a day of preschool experiences that helps children learn and builds a foundation for further education in reading and math.