About Florida VPK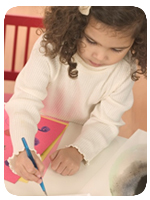 VPK stands for the Voluntary Prekindergarten Education Program. If you live in Florida and your child turns 4 four years of age by September 1, your child is eligible to participate in Florida's FREE Voluntary Prekindergarten (VPK) education program.

The school-year program includes 540 hours of instructional time and begins in August. For those students who participate in our VPK program, extended care is available at Precious Lambs Preschool during the rest of the day.

Please contact us to learn more about our 4-year-old VPK program at 352-489-3027.


Learn more about VPK or apply online at the following websites:

Florida's Office of Early Learning

Early Learning Coalition of the Nature Coast serving Citrus County.

Apply online for VPK