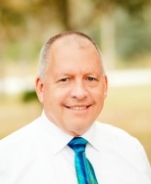 Mr. Daniel Plath

Principal




Connections. There is nothing better than being connected with someone or something and knowing that it came into your life at the perfect time.

Finding the right school for your child can be a challenge for some parents. I love connecting parents to our school and then showing them how their child will grow in so many ways over the years… emotionally, physically, intellectually, but most importantly, spiritually.

Christian education has been my life. For 35 years, I have served a variety of schools from Montana, through the Midwest and now in Florida. I have had the privilege of working side by side with my wife of 35 years as she has been a teacher on my staff for many of those years.

Four very successful adult children, three of them married with two grandchildren round out my immediate family. With most of them living in Wisconsin and Illinois, our home has become THE warm weather destination.

I love to relax by walking, running, biking, or just sitting by the pool talking with friends or family. Wisconsin deer season never passes without my participation. Family deer camp with brothers, nephews and my son brings those lasting memories.

My leadership experience includes principalship for 35 years and the unique opportunity to serve on a volunteer fire department for 11 years. Once again being connected to people of my community brings me joy.

I am excited to be a part of the St Paul's, Beverly Hills family. It never gets old watching children have those "Ah ha" moments in their academics and in their spiritual lives as they discover who their Savior is.